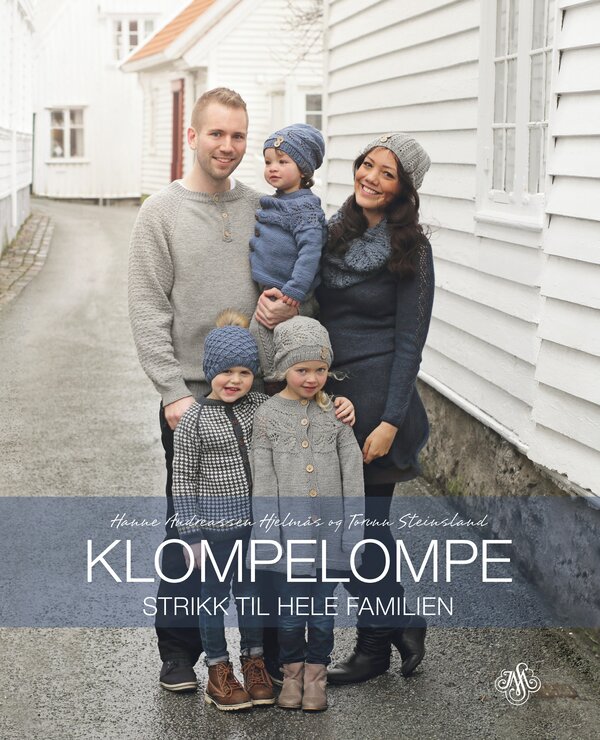 The interest in the Klomplompe patterns has not let up. Through their website, www.klompelompe.no and via Instagram, the two knitwear entrepreneurs Hanne Andreassen Hjelmås and Torunn Steinsland reach out to more and more international markets every day; both to individuals wanting to buy patterns as well as to yarn shops ordering their products. These clothing patterns have proven to have a worldwide appeal; one that is both romantic, slightly retro, and has a distinct original touch.
Inspired by the nature and climate: wind, rain, sun, storms and sea, KNITTING FOR THE FAMILY includes 60 patterns of the beautiful knitting wear from Klompelompe. Along with darling hats for boys, there are patterns for sweaters, trouser suits, gloves, and scarves.
Here you find garments for boys and girls, but also for babies and grownups. Many of the patterns are designed for mother and child. The idea is for the reader to find their favorites and to combine colors that match. All patterns are marked with different degrees of difficulty: 1, 2, or 3. If you want a quick and easy project, look for level 1. All patterns have suggestions for delicate color combinations and for specific wool qualities.
NUMBER ONE BEST SELLER: Since publication in August 2016.
Foreign rights
Peoples Press (Denmark)
Gummerus (Finland)
Éditions de Saxe (France)