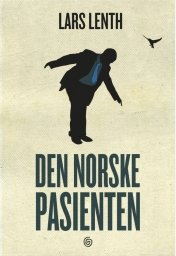 The once so promising law student, Leo Vangen, has placed himself on a small island called Goose Island, in Bærum – Norway's wealthiest area. Here he enjoys a safe, but limited life. When the trolling-enthusiast Trond Bast pulls up the corpse of a Pole outside the shore of Bærum, Leo Vangen is forced out of his bubble and into a world of corruption, murder, semi-successful criminals, rusty love and abused au pairs. For there's something rotten in Bærum – a place everyone loves to hate.
«The Norwegian patient» is a novel about a man who has lost his track, and about his way back. A story of five messed up guys who try to do their best — and one sensible woman who brings it all together.
Lenth is inspired by writers such as Elmore Leonard and Carl Hiaasen and shows a passion for odd dialogues and the darker ironies of life. Half realism, half cartoon-like, Lenth's characters try to cope with the bigger and smaller challenges of life as best they can.
«The Norwegian patient» is a book that is bound to make you burst into laughter – and deep thoughts.
Foreign rights
Limes Verlag, Germany
Wydawnictwo Literackie, Poland